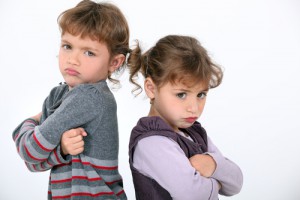 Recently, while working with a teenage client, she shared a text conversation that was pertinent to the event she was processing.  As she read her part of the text conversation aloud, she used a calm, soft voice and displayed a sincere demeanor.  While reading the other person's texts in the conversation, her voice was filled with attitude and her demeanor was condescending and rude.  I found it intriguing how she was using voice inflections and intonations as well as other non-verbals to communicate in a conversation that clearly has none of those as options.  When I questioned her about it, she was startled.  She didn't realize she was doing it at first.  As we discussed it, she stated, "But that's how she talks to me when she's mad".  The text conversation did not indicate that the other was annoyed or angry.  In further exploration, we discovered she was assuming how the other would be speaking.
     In my practice I always recommend conversations around deep or serious topics occur in person or by phone (if you cannot do it in person).  In person, you can see, sense and experience the conversation and leave nothing to interpretation.  You can ask clarifying questions.  You have the full focus and attention of the person you are communicating with (yes….insist on it!)  And it makes it more difficult for you, the listener, to hear the other through your own history.
     Hearing through your history limits the brilliance of the other's message to you.  It means you are filtering their words through what you surmise they mean.  When we "think" we know what they mean we are guessing which means we are hearing through our history and not hearing clearly.  The brilliance (and yes I mean, the excellence of or the magnificence of their message) is lost on you.  You miss it because you are hearing from your own experiences and beliefs.
     The text conversation my client shared was a fabulous example.   Because she was hearing through her history, she was missing that her friend was actually sharing her desire to return to the friendship they once shared.  Her friend was literally opening herself up, being vulnerable, and hoping to reconnect.  My young client was wishing for the same.  However, her past hurts had accumulated to such a degree she was hearing only complaints and attacks.  She couldn't hear the vulnerability and hope her friend was expressing.  I asked her if I could read the messages out loud to her with a different perspective.  She allowed me.  When I was finished… she cried.  We read the same words…. one was heard through her history.  The other was heard from an open heart.
     Hear with an open heart and you will hear love and compassion.  Hear through your history and you will hear…… your history!
---
Comments are closed.