By Barbette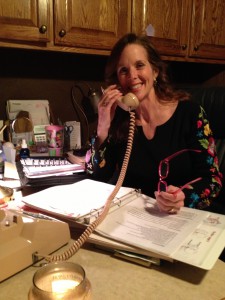 Why Energy Medicine?  Barbette and a few of her colleagues discuss the importance of integrating energy medicine into our regular medical routine.
Pilates Takes off at Good Samaritan Hospital Well-Being Center
Read Article here
This article is about one of the programs I introduced to The Well-Being Center.  My colleague, Kim, and I became certified in both mat classes and in use of all the pilates equipment.
VOICE AMERICA RADIO SHOWS:
Fun with Produce and Summer Salads     July 2013
Listen Here
What do you do with all the wonderful fresh produce that is at your fingertips? Cold meals on hot days make sense. Healthy, nutritious, and satisfying salads are easy to prepare during your busy summer days. Do you have a favorite salad recipe? And what do you do with kale?
ESSENTIAL OILS   June 2013
Listen Here
Do you understand the benefits of essential oils? Wonder how to use them and for what conditions? Guest Host, Barbette Spitler, will interview Susan Richardson, Essential Oils Mentor, and author of The Mother Consciousness. Susan has spent years working with and researching new protocols with essential oils. Join us as Susan shares her story of finding essential oils and using them to promote healing for her daughter who had a severe form of Autism. Susan will also discuss the difference between high quality, therapeutic grades of oils, and synthetic or diluted oils.
CONSCIOUS EATING    April 2013
Listen Here
Do you wander through your day stuffing food into your mouth, sometimes without even knowing what or why you are eating? Are your eating patterns rote, mundane or just unconscious? Move into conscious eating! Discover the world of Bio-Individuality. Are you just confused by all of the nutrition information in the general media theses days? Our guest, Barbette Spitler, will discuss the energy of food and the impact of our food choices on our entire being. Barbette will give us eight steps to better health through nutrition and conscious food choices.
ENERGY HEALING   November 2012
Listen Here
Are we more than just a physical being? Of course we are! Join this lively discussion with Barbette Spitler for education and guidance in the world of Energy Healing. As a Spiritual and Medical Intuitive, Barbette brings a unique perspective to the understanding of the interaction of energy and our environment, thoughts, and relationships. Not just the basics, but also a suggestion as to how you might integrate energy healing into your total wellness practice to create your optimal state of health and well- being.
---
You must log in to post a comment.