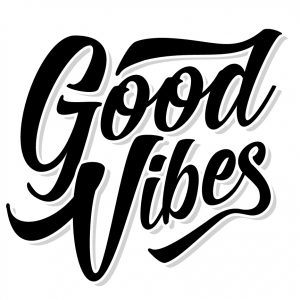 Everything on the planet is about vibration… frequency… and energy. Absolutely everything! Remember 8th grade science? Solid, liquid and gas are all based on vibration. We speak in energy terms. We seek energy drinks to boost our energy. There are songs about good vibrations. We tune our radios in by frequency. How do you think Wi-Fi works?   It's energy that is used in ultrasounds, laser, electricity, x-rays, microwaves… I could go on and on. I think you get the point. We use energy vibration every single day!
We all know people who are low vibration. They have no energy. They drain the other people around them. They are angry or sad. They are depressed or lack motivation.   On the other side of the spectrum are those who have high vibration. They are peppy, show appreciation, are on the move and beam happiness.   Those are the people we like to be around because they light us up. They bring out our best. And they make us feel energized too. Be one of those people!
How do they do it? How do they keep their vibration up? Here are a few simple ways you can raise your energy vibration. Whether it is short term, like a midafternoon slump, or to get you through a trauma or crisis, or maybe you'd like to find ways to keep your vibrational frequency in the happiness zone always – then these tips are for you!
Breathe!! Deep breaths are standard in other cultures. In ours, not so much. We slouch at the computer or while watching TV and decrease the size of our lung expansion. We keep our heads down looking at our devices and significantly decrease our ability to take in a full breath. We use one-third to one-half of our lung capacity and we often feel anxiety or shortness of breath.     STOP! Take a big deep breath. Inflate those lungs to their fullest. Now, close your eyes and take another deep breath in and as you slowly exhale visualize yourself releasing anything and everything that slows you down or holds you back.   Boom! Instant rise in energy and vibration!
Hydrate with water!!   Humans are supposed to be about 73% water. The typical American is about 57% water. Dehydrated because of our diet, our beverage choices and our lack of attention to the signs of dehydration. Dehydration lowers our vibration! Drink water! We are designed to drink water! Not soda. Not coffee loaded with sugar and cream or other flavorings. It's water! Try using these little sachets in your water to mineralize and alkalize AND provide electrolytes!   Xooma2day.com   X2O sachets.
Nutrition!! Live foods increase our vibration. Fresh fruits and vegetables improve our health and increase our vibration. They contain enzymes which promote health and prevent disease. Disease manifests in lower vibrations! Eat fresh, organic, live foods for best health and higher vibes!
Music !! Music is all about frequency and vibrations. Music can raise our frequency/vibration or lower it depending on the type of music chosen. Lyrics matter! Choose music with a pleasant rhythm, uplifting lyrics and an appealing tone to raise your vibration. Classical music, stringed instruments, and jazz all have a way of increasing our vibration. Start today!
Move!! Movement increases energy faster than anything else. Dance. Exercise. Run. Do yoga. Have sex. Free movement releases the stagnant energy in our muscles and joints and raises our vibration. We get happy. We feel alive and energized. Do it everyday! Do something – move – everyday.                                                           
Laughter !! Laughter is not only the best medicine it is the best way to raise the vibration of individuals as well as whole auditoriums of people. Where there is laughter there can be no sadness (low vibe). Watch comedy's. Play games with children. Spend time with puppies or kitties.
Declutter !! Everything has a vibration. Clutter has a collection of those vibrations… Read this, organize that, file these, finish that… and all that vibration of things needing to be handled or put away, causes a lower vibration in the space as well as those within it. So, declutter and feel the good vibrations flow!
Be in Nature!! Trees have good vibrations. Nature has a way of grounding us and making us feel more connected. Those feelings of connectedness help us feel happier and we already know, happiness increases our frequency vibration.
Stop watching the news!!   How do you feel after watching the news? News reports. Politics. Car accidents. Murders. Disasters. All depressing subjects that lower our vibration. Is there anything on the news that is uplifting, heartwarming or help us to raise our vibration?   No! Stop watching and do something else with that time.
What makes your heart sing? Do the things you love to do.  Crafts. Sew. Fly model planes. Build legos. Cook/bake.    Volunteer! Do the things that make you happy. Your vibration will rise like a balloon escaping the grip of a child's hand.