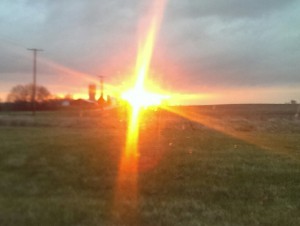 As I reflected on Easter and its meaning I realized something I found very interesting and I just need to share it with you.
The Easter season is an observance of the crucifixion and resurrection of Jesus Christ.  On Easter Sunday, Christians around the world celebrate with sunrise church services, uplifting songs, and family gatherings.  It is a joyous and happy celebration with varying traditions of festivity.
I remember Easter Sunday being a time of new things.  New Easter dresses and hats for the girls and new suits for the boys. I remember new white shoes, too!  Easter baskets were filled with new gifts and the hard boiled eggs we colored and decorated the day before.  A true celebration!  And there was always an amazing Easter dinner with family and loved ones.   I also remember being profoundly effected by the days leading up to Easter Sunday. The crucifixion! You know the story.  It's incredible, no matter how you hear it.
On Good Friday I always take extra time to reflect on the journey of Jesus.  His birth, his life, his teachings, his death…  And as I thought about it, I began to realize that, at some level, we all go through a "crucifixion and resurrection" of some kind.  No, I'm not talking about being nailed to a cross.  Nor am I attempting to diminish the journey of Jesus nor overstate ours.  I am simply making the parallel to common times.
Today, Jesus would not be nailed to a cross, yet his crucifixion would still be profoundly significant.  His life journey, though very different today, would still be a lesson for all humanity.  His teachings would still  positively affect many and still negatively affect others.  The manner of his crucifixion and resurrection would be very different in the world today.
Similarly, every single one of us has had a time where we had to undergo a crucifixion of our own.  Let me explain…  We have, at some point, been treated unjustly or even persecuted by another.  We have all had an extremely painful test of our faith. Whether it was the loss of a job, a terrible accident, the loss of a loved one or a relationship, financial ruin, homelessness, hopelessness, drug addiction or a difficult medical diagnosis… each of these becomes an extremely painful crucifixion/test of faith where all you hold important or valued is drastically changed or stripped away. It is a "death" of a part of you or a part of a belief system you held dear to you.  Think back…  I'm sure you can find at least one page of your life journey that fits in this narrative.  It is those times when it seems so dark and lonely you cannot see the light. Child abuse, sexual assault, violent crime, public slander, difficult divorce, wrongful accusations, … the list goes on and on,  Each of these experiences results in some level of suffering, torture or torment.    Although no two people have the same journey.  We do have similar experiences and we often have similar feelings/emotions about those life experiences.
The death of what we knew to be truth… being crucified with judgment or torment…  being left in the utter darkness of loneliness, devoid of human support or affection … this is the kind of current crucifixion we may experience in our journey of life. Yet, after the crucifixion comes resurrection!  We walk (or crawl) through the experience seeking the light of Spirit.  We learn quickly there is no value in taking that walk alone.  No human contact is required – just our conscious choice to connect to the heavens and allow our Spirit to ascend out of the pain and negative emotion.    We are truly never alone!  We may lose our connection with Spirit but Spirit never loses the connection to us!  It is often at our depth of despair that we finally realize we disconnected ourselves and it is we who need to reconnect.  The resurrection IS our re-connection to Spirit. It is our renewed sense of awakening to this awareness and connecting that brings us out of the depths of darkness and restores us to the light of love.
Take a moment to reflect about your own journey through those tests of faith.  Ponder how you walked through the darkness and found the light again.  What do you do now to keep a daily connection to Spirit.  What have you changed? And how would you handle another crucifixion event in the future.  Please share your thoughts / experiences below.
Blessings of love to you!
Barbette
(photo credit:  Lori Trunck  saw this image on her way to work today!)
---